How much time will you wait for a great dish or how far do you go for a restaurant? Some of us might wait for an hour or go for a mile to a restaurant. But "Tiyagyoni", is a pop-up restaurant on Mount Everest Base Camp where you have to trek for 8 days to reach.
Story behind Tiyagyoni
A group of chefs including an Indian chef Sanjay Thakur is attempting to set a world record for a pop-up restaurant at Everest Base Camp in Khumbu region.
Sanjay Thakur will set an eight day trek from Lukla at the end of May along with his chefs team and other 10 diners to join them.
The restaurant provides an eight-course meal, with dishes that include: shishno garlic, Himalayan roll, dal bhatt, fish salad, chicken, panacota by nak milk, bassa fillet and cheese platter.
The project, named as Tiyagyoni, is intended to raise awareness of sustainability issues. The money raised will go to local charities, Thakur said. Tickets costs $5600, which includes all fights, accommodation and meals. Contact [email protected] for reservation of tickets.
Updates: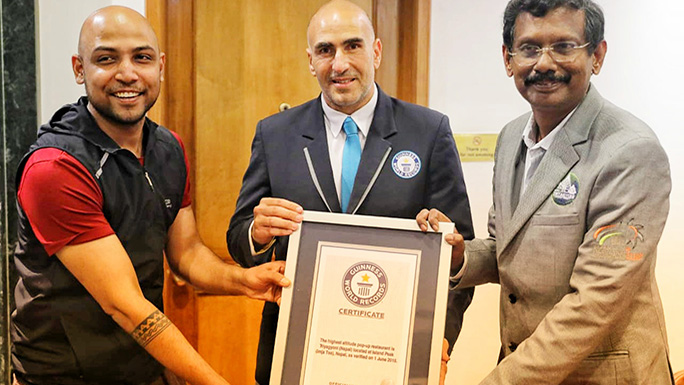 Tiyagyoni is the world's Highest altitude pop-up restaurant as of 2 June.