< !DOCTYPE html PUBLIC "-//W3C//DTD HTML 4.0 Transitional//EN" "http://www.w3.org/TR/REC-html40/loose.dtd">
Mountain Climbing holidays are categorized in two groups like Expeditions and peak Climbing on the basis of elevation that ranges from 5000m to 8848m high from sea level. There are 33 different mountain peaks for climbing in Nepal listed by Nepal Mountaineering Association. The mountain peaks below 7000m are categorized to peak climbing in Nepal and among them, Island also known as Imja Tse is the top one.
Here we are listed the top 5 peak climbing in Nepal for those who are planning for climbing the mountain.
Island Peak Climbing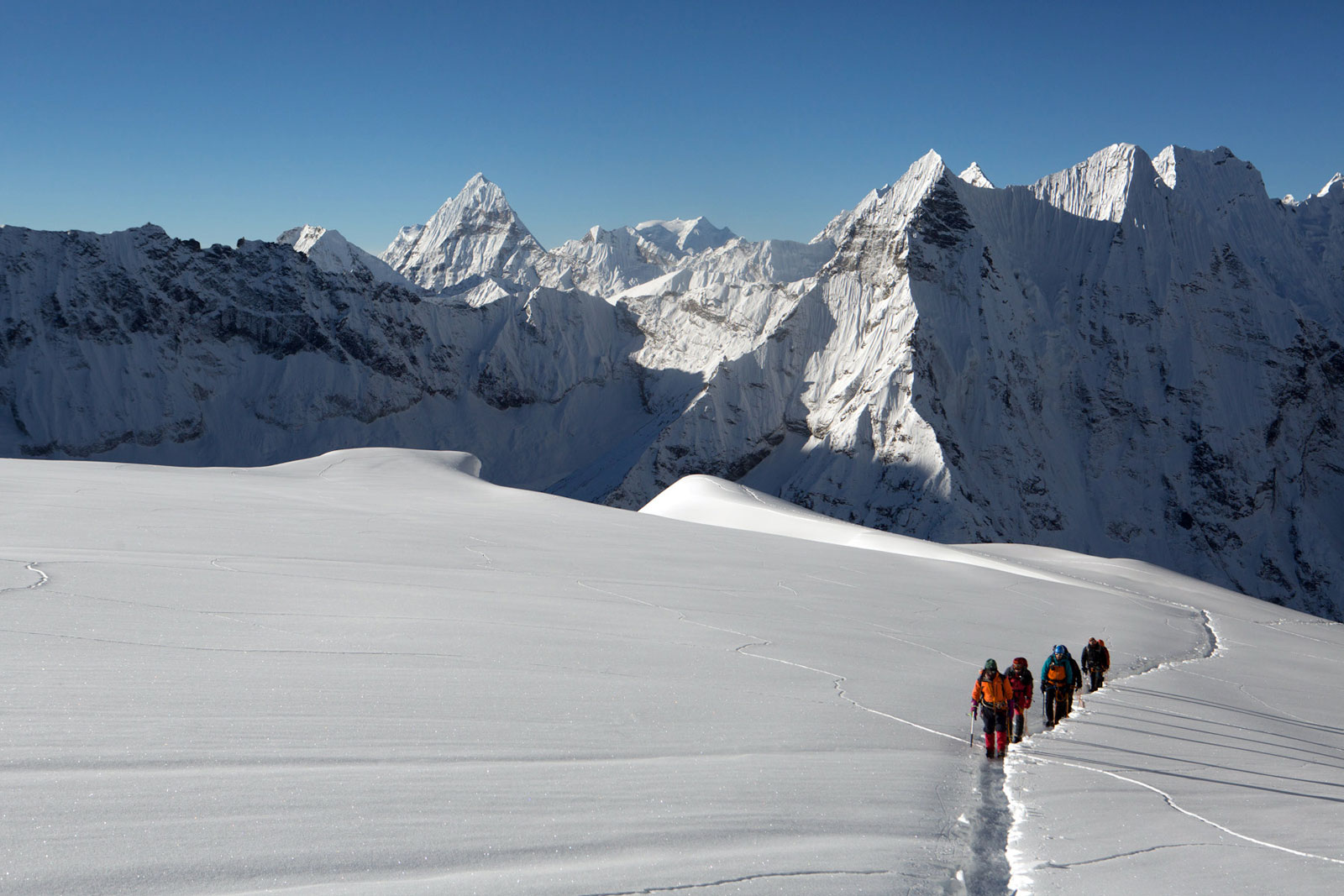 Situated in Khumbu Region, the home to Mount Everest, Island peak is the top royalty collector peak in Nepal. The most popular trekking peak, Island Peak receives the most of the climber visiting to Everest Region. For the island peak climbing, you will be followed the Everest Base Camp Trekking route so it can be a combo Everest Base Camp Trekking + Island Peak Climbing package for experiencing the mountain trekking and climbing holidays.
View Details about Island Peak Climbing >>>
Mera Peak Climbing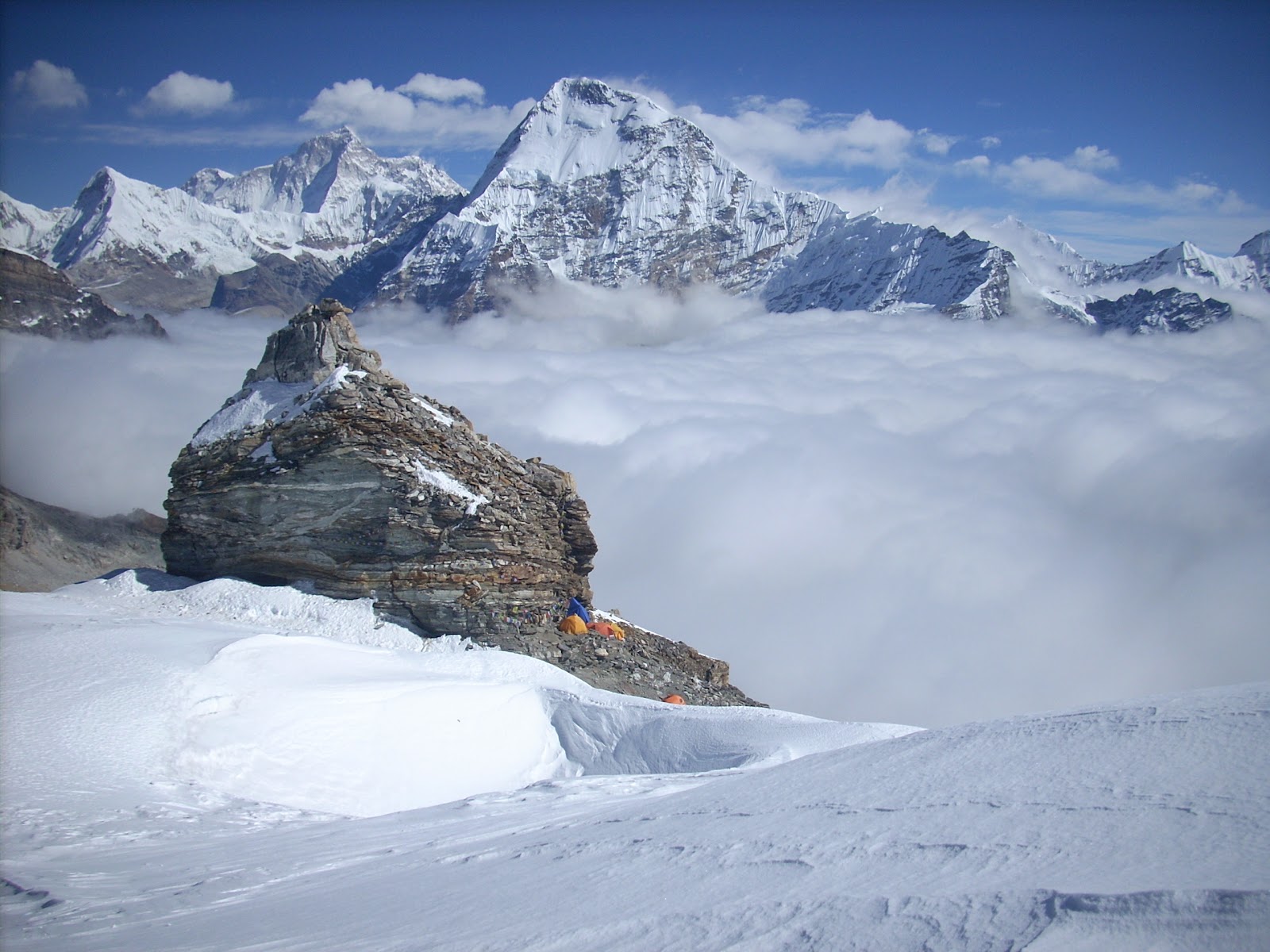 With the 6654m elevation, Mera Peak Climbing is the second most popular peak climbing situated northeast region of Himalayas. You will be hiking to Kalapatthar and viewing World's top 5 highest mountain peaks Mt. Mt. Everest (8,848m), Cho- Oyu (8,201m), Lhotse (8,516m), Makalu (8,463m) and Kanchenjunga (8,586m) are visible very close during your mera peak climbing holidays.
View Details about Mera Peak Climbing >>>
Lobuche Peak Climbing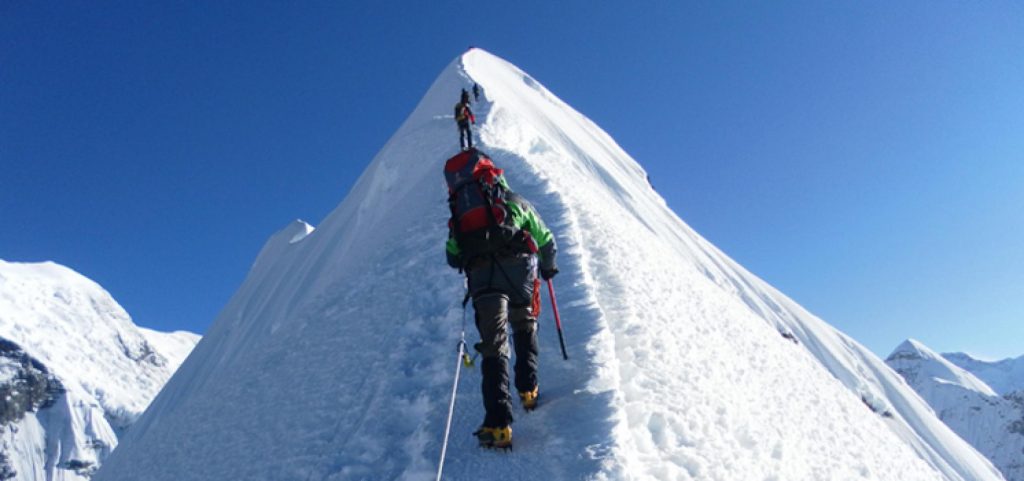 The adventurous and exciting trekking peak, Lobuche Peak Climbing is popular peak climbing in Nepal. As compared to other trekking peaks, this is the technically difficult trekking peaks in Nepal. There are two peaks namely Lobuche East and Lobuche West offers the scenic views of Mt. Everest, Mt. Ama Dablam and 360 degree views of Himalayan panorma.
View Details about Lobuche Peak Climbing >>>
Tent Peak Climbing
Tent Peak climbing also known as Tharpu Chuli (5663m) is one of the most popular trekking peak that lies north above Annapurna Base Camp in Annapurna Trekking Area. Naturally and culturally rich area, the journey to Tent Peak Climbing begins from the scenic travel destination Pokhara to Tent Peak.
View Details about Tent Peak Climbing >>>
Chulu East Peak Climbing
Chulu East peak lies is one of the most popular climbing peaks in Nepal in Annapurna Region. Technically challenging peak, Chulu East is also combined with the Annapurna Circuit Trek situated above the Manang valley. The chulu east offers the breathtaking views of Annapurna II, III and IV, Gangapurna, Tilicho peak, Dhaulagiri and manaslu.
View Details about Chulu East Peak Climbing >>>