District Profile
Location: Where is Nawalpur?
Nawalpur or Nawalparasi east of Bardaghat Susta is newly formed district located in Gandaki Province of Nepal. It is one of the 11 districts of Gandaki Pradesh and 77 districts of Nepal. The district headquarter is located in Kawasoti.
Formally, the district was a part of Nawalparasi District, which splitted into two districts Nawalpur and Parasi District after the state's reconstruction of administrative divisions as of 20 September 2015.
According to the census of 2011, the district has the total population of 310864 people and covers 1,043.1 square kilometers of total area.
It is the district belonging the mid point of east-west highway Mahendra Highway crossed through the Terai region of Nepal.
Map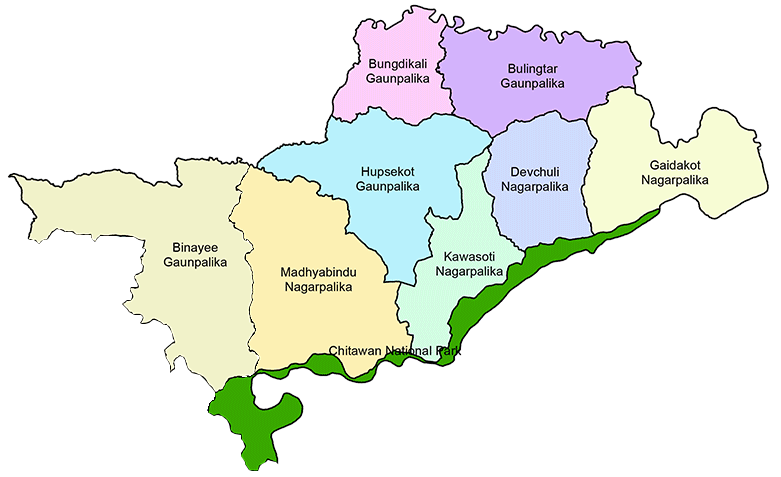 Places to Visit/Tourist Places of Nawalparsi/Nawalpur
What are the best places to visit in Nawalpur?
Well, talking about the best places, the district has some popular pilgrimage sites like Maulakalika Mandir, Daaune Devi Mandir, Devghat Dham, Cg temple, hillside Devchuli and Amaltari Ghat for wildlife adventure and water sports.
Maulakalika Temple
Maula Kalika, a famous Hindu temple of Goddess Kalika in Gaindakot Municipality of Nawalparasi district in Lumbini zone of Nepal, is a very famous religious and hiking destination. The maula kalika temple is famous for religious point of view as during the Dashain festival in September-October, temple is crowded with devotees and hikers worshipping Goddess Kalika in the festive seasons.
Maulakalika as the Hiking spot
Residents from Gaindakot Municipality and nearby towns of Narayangarh, Bharatpur and Chitwan choose this places as a destination to enhance their leisure time with the feel of the cool breeze, observation of wide panoramic views of wilderness, and the exciting adventure of walking through 2000 meters long sloping and curving stairs to attain the height of the final destination.
The spot offers the panoramic views of Narayani River, nearby towns of Gaindakot and Chitwan, Mt. Manaslu on the north side and beautiful sunrise views in the early morning. Tourists who visit Chitwan National Park and Lumbini often choose the spot for short trekking. It takes about 4 hours to go up and down for the hiker so it could be the best hiking destination for a day hiking in Nawalparasi. Walking/climbing the hill is a popular way to get there. The foot trails were maintained by local labor contribution. It takes about 30 minutes for experts and about 2 hours for new comers to reach the top. You can enjoy the site seeing, shop for fruits, and drink natural water or rest in those foot trails.
Daaune Devi Temple
Devghat Dham
Cg Temple
Amaltari Homestay
Devchuli Hill
Devchuli is the hiking spot located at Pragatinagar, Devchuli Municipality, Nawalparasi district of Nepal. Inhabitant of Indigenous Magar, Bhrahman and Tharu community, Devchuli is the religious, natural and historical place that should be promoted as the tourist attraction. Tiger, Elephant, Rhino, Antelopes and different species of birds, local culture and history, beautiful Annapurna Mountain views and rhododendron forests are the major attraction of the site.
Hotels and Resorts in Nawalpur/Nawalparasi
Red House Jungle Resort, Amarapuri – Gaindakot Municipality
Hotel Chris, Daldale, Devchuli Municipality
Mega Resort, Devchuli Municipality
Hotel Hatemalo Inn, Devchuli Municipality
CG Retreat, Dumkauli, Devchuli Municipality
Island Jungle Resort
Machan Country Villa
Barauli Community Homestay
Nana Holiday Homes
Tiger Tops Tharu Lodge
Riverside Green House Resort
Central Palms Hotel
Hotel Atithi Home
Tharu Village Jungle Lodge
Temple Tiger Green Jungle Resort
Galaxy Guest House and Resort
Chitwal Lodge
Bharat Garden Resort
Tiger Palace
Hotel River Crown
Best Things to do in Nawalpur
What are the most popular activities that can be done for holidays?
You can visit the pilgrimage sites for spiritual and peace. It take about 3-4 hours to reach, perform puja and return back to Maulakalika Mandir. You can also visit CG Shashwat Dham to enjoy the religious and spiritual peace. If you love trekking and hiking, you can hike to Devchuli Hill – the highest hill in Nawalpur. Also you can enjoy local tharu village tour, Tharu cultural dance show, water sports and jungle safari (Chitwan National Park) at Amaltari Ghat, Kawasoti Municipality.
Trekking and Hiking
Trekking route to be constructed in Mahabharat range
A tourism trekking route is to be constructed covering the Mahabharat hill range. In the initial phase, a trekking route linking Gaidakot of Nawalparasi to Jhiruwa of Palpa is to be opened. The trekking route would straddle the Mahabharat hill in Nawalparasi and Palpa districts.
The site with historic and religious importance is equally rich in natural and cultural beauty. The Mahabharat range was ruled by the kings of the Sen dynasty when the country was divided into 22 and 24 principalities.
The area which will be covered by a new trekking route with five-day package offers scenic views of the lush green hills with heart touching experiences of the rich Magar culture, Devchuli Hill Conservation and Touristic Area Development Committee Vice Chair Heera Singh Reshmi Magar said.
A feasibility study for opening a route which will pass through Maulakalika, Hattigauda, Barchuli, Devchuli and Rudrapurgadhi of the Mahabharat range has been already completed. The route is a habitat to ghoral and it is the 'best' destination for tourism trekking, District Development Committee Nawalparasi Information Office Pushkar Kafle said.
Dense Magar settlements, scenic views of the Machhapuchhre and the Daulagiri peaks and Terai flat lands will provide pleasure for trekkers, he added.
The Local Development Committee Nawalparsi has praised local-level effort to develop infrastructure for tourism development. This would be a great support to local's livelihood, Local Development Officer Ramuraj Kadariya said.
It may be noted that the government has allocated Rs one million for establishing the Gaidakot-Jhiruwa trekking route. Locals are excited over the inclusion of their development plan at the central level.
Religious Sites Visit
Jungle Safari
Water Sports
Stay in Homestay
How to Get in Nawalpur?
Nawalparasi is 200 km away from Kathmandu, it takes about 6 hours by Bus, 6 hours by car/Jeep and cost NRs 500 by a local bus. Optional: you can fly from Kathmandu to Bharatpur airport and take a local bus to Nawalparasi.
Via Flight
Via Road
Divisions of Nawalparasi
Nawalpur district is divided into 8 local level body. Here are the details of 4 Urban Municipality and 4 Rural municipality.
क्र.स.
स्थानीय तहको नाम
स्थानीय तहको प्रकार
वेवसाईट
1
कावासोती नगरपालिका

Kawasoti Urban Municipality

नगरपालिका

Urban Municipality

2
गैडाकोट नगरपालिका

Gaindakot Urban Municipality

नगरपालिका

Urban Municipality

3
देवचुली नगरपालिका

Devachuli Urban Municipality

नगरपालिका

Urban Municipality

4
मध्यविन्दु नगरपालिका

Madhyabindu Urban Municipality

नगरपालिका

Urban Municipality

5
बुङ्दीकाली गाउँपालिका

Bungdikali Rural Municipality

गाउँपालिका

Rural Municipality

6
बुलिङटार गाउँपालिका

Bulingtar Rural Municipality

गाउँपालिका

Rural Municipality

7
विनयी त्रिवेणी गाउँपालिका

Binayitribeni Rural Municipality

गाउँपालिका

Rural Municpality

8
हुप्सेकोट गाउँपालिका

Hupsekot Rural Municipality

गाउँपालिका

Rural Municipality
Volunteer and Community Projects
Education Institutions
Health and Sanitation
People, Languages and Culture
Internet and Telecommunication
Banks
Banks in Nawalpur
Nepal Investment Bank Ltd
Daldale Branch, Nawalpur
Tel: 078575749
Branch Manager: Arun Pandit
Kumari Bank Limited
Sabhapati Chowk, Kawasoti-5, Nawalpur
Phone 078-540524, 540525
Branch Manager: Mr. Madhav Prasad Upadhyay
Global Ime Bank
kawasoti, Nawalpur
Phone No: 078-540527/540528
Fax No: 078-540529
Branch Manager: Keshab Prasad Woli
Janata Bank Limited
Gaindakot Branch, Nawalpur
Ph: +977-78-503291, 503292
Fax: +977-78-503290
Branch Manager: Mr. Ramesh Niroula
Pratappur Branch, Nawalpur
Phone: 078-419031, 078-419032
Fax: 078-693385
Branch Manager: Mr. Santosh Bhakta Panta
Daldale Branch, Nawalpur
Ph: +977-78-575554
Fax: +977-78-575553
Branch Manager: Mr. Birodh Adhikari
Prime Commercial Bank Ltd.
Kawasoti, Nawalpur
Phone: 078-540996/97
Fax: 078-540998
Branch Manager: Mr. Narayan Acharya
NIC Asia Bank
Kawasoti-8, Nawalpur
Phone: 078540371/72
Branch Manager: Tilak Ram Khanal
Devchuli Municipality 13, Daldale, Nawalpur
Phone: 078-575571/72
Branch Manager: Ram Krishna Kafle
Gaidakot Municipality, Ward No: 15, Amarapuri, Nawalpur
Phone: 078-417051/52/9851079181
Branch Manager: Binod Sedhain
Madhyabindu Municipality, Ward No. 10, Arunkhola, Nawalpur
Phone: 078- 555324/555327
Branch Manager: Seshraj Pokhrel
Gaidakot Municipality Ward No. 4, Congress Chowk, Nawalpur
Phone: –
Branch Manager: Mr. Ashok Panta
Nepal Bangladesh Bank
Daldale Branch, Nawalpur
Phone: 9855070642
Branch Manager: Padam Raj Upreti
Civil Bank Limited
Kawasoti Branch
Indra Chowk-08, Kawasoti, Nawalpur
Phone: 078540770
Branch Manager: Buddhi Nath Adhikari
Mega Bank Limited
Indra Chowk-5, Kawasoti, Nawalpur
Phone: 078-540089, 540098
Fax: 078-540089
Branch Manager: Mr. Gopal Khanal
Siddhartha Bank Limited
Ward No.2, Kawasoti Municipality, Kawasoti Bazar, Nawalpur, Nepal
Phone: 078-541133
Branch Manager: TEEPAHANG PHIYAK
Himalayan Bank Limited
Kawasoti, Shabhapati Chowk – 5
Phone: 078-541040
Century Bank Limited
Madhyabindu-7, Chormara, Nawalpur
Phone: 078-410010
Fax: 078-410011
Branch Manager: Rajesh Kharel
Prabhu Bank Limited
Kawasoti Municipality -8, Kawasoti Bazar, Opposite to Bajaj Showroom, Nawalpur
Phone: 078-541032
Branch Manager: Saroj Gnawali
Nepal Credit and Commerce Bank Limited
Gaidakot, Nawalparasi
Tel: 078-503227
Branch Manager: Ms. Rita Kandel
Hupsekot Gapalika, Nawalparasi East
Branch Manager: Mr. Govinda B.K.
Government Offices
Remote Villages of Nawalpur/Nawalparasi
Kumsot Village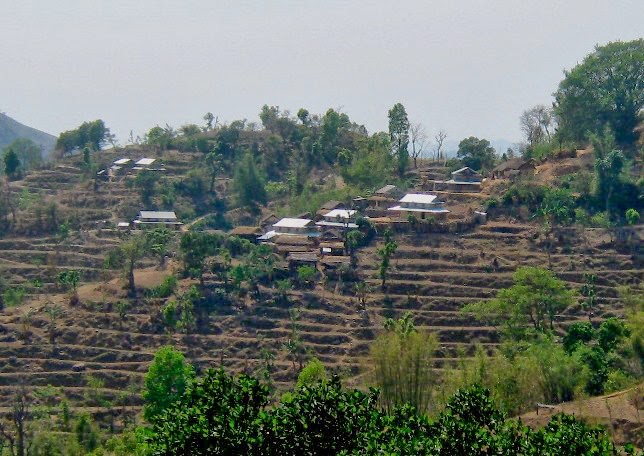 Kumsot is a small village located in the northern hills of Nawalparasi district. A rough track 10 km uphill leads to the village from the main road. During the monsoon season, the roads are slippery and impossible for vehicles.
There are 67 households.
The main occupation of the villagers is agriculture. The major crops are rice, maize, millet and potatoes.
The literacy rate in kumsot is very low. There is no any higher school and few people are literate who have passed their School Leaving Certificate level.
Main Problems of the village
Higher Education
Health and Sanitation
Pure Drinking Water
Electricity