Top 5 Best Monsoon Trekking in Nepal
Upper Mustang Trek
Upper mustang lies in the rain-shadow area which doesn't get affected by rainfall. As know as desert in Himalayas, upper mustang trek is popular for its geographical structure, Himalayan view, Tibetan influenced people and culture.
Mustang region lies in restricted region and needs a special permit to enter as a tourist. This isolated trekking area offers much for tourist to explore around. You can witness the Annapurna and Dhaulagiri Himalayan ranges with mystic culture and untouched civilization of Nepal mountain area.
Dolpa Circuit Trek
Dolpa circuit or popular named as Upper Dolpo Trek is also a restricted area trekking. This is less touristic trekking region of west Nepal offering the best mountain views, incredible landscapes and sceneries, untouched cutlural villages and beautiful lakes.
Less people go to visit Upper Dolpo after it was officially opened to foreigners from 1989. This region receives less rainfall as compared to other trekking areas so it is best during Monsoon in Nepal.
Upper dolpo came to wider world after the Peter Matthiessen published his travel journey book "The Snow Leopard" and Eric Valli's movie got nominated in Oscar Award. Since then the tourism in Upper Dolpo has got people's eye.
The Himalayan massifs, snow-capped mountains, wild national parks, cultural gompas, canyons and cliffs, unspoiled nature, primitive culture and traditions and clear lakes are the reasons why you should visit this area.
Humla Limi Valley Trek
Humla is the remote area of Nepal. The limi valley lies in the far western region of Nepal which offers the organic culture and nature. Like other trekking areas in rain-shadow, it also receive less or no rainfall during monsoon season. So, it is best for Monsoon trekking in Nepal.
It is the salt trade route of Nepal and Tibet and one of the travel route to Kailash Mansarovar yatra. The area was first opened to tourist from 2002 for holidays.
Nar Phu Valley Trek
Nar Phu Valley trek is a real wilderness trekking trail in Annapurna region. Nar and phu villages are two places that offer to explore the unspoiled nature and culture. Few trekker make their journey to this remote area of Nepal which lies in rain-shadow area of Annapurna and Dhaulagiri Himalayan ranges.
This trek can be undertaken in monsoon season also and best for Himalayan views. The trek was first opened for foreign tourists in 2002.
But, it became popular as the local people started homestay accommodating tourists since 2010. If you are avoiding the crowds of the popular trekking area, Nar Phu Valley Trek is a best option.
Annapurna Circuit Trek
The Annapurna Circuit Trek lies in rain-shadow area and is the best trek to do during monsoon. This is the most popular trek in Nepal, so consider this trekking to avoid crowds. You can shortened the trek by drive and flight.
Popular Treks During Monsoon in Nepal
Everest Base Camp Trek during Monsoon
Everest Base Camp (EBC) trek is one of the most visited trekking destination in Nepal. Trekking to this popular route also doable during monsoon.
The advantage of the trekking to Everest Base Camp is loneliness. There are few trekkers hiking to EBC during monsoon. Monsoon is the best time to avoid crowd and off-season discounts on lodges, food, transportation and flights.
The flight might be delayed or cancelled due to bad weather. There are only few flight during monsoon in Nepal on Kathmandu Lukla sector. Be sure, you have a buffer in case of flight delayed or cancelled.
Monsoon in Nepal
Trekking during Nepal monsoon season is not so highly recommended except some rain-shadow ares and less affected areas by rain. June, July and August are the months of monsoon season and trekking during this time will be quite difficult as there can be heavy downpours, risk of leeches, landslides, flood and avalanches.
However, you can do trekking to the places that receive very less rainfall which are protected by the high mountains. Upper Mustang, Manang, Humla Simikot, Nar Phu Valley, Dolpa are the trekking places in Nepal possible for hiking.
The availability of mountain lodges is high during this time as there will be less trekkers in the popular trekking trails and you may get off-season discounts.
Weather during Monsoon season in Nepal
The weather during monsoon in Nepal hot and humid.
Annual Rainfall in Nepal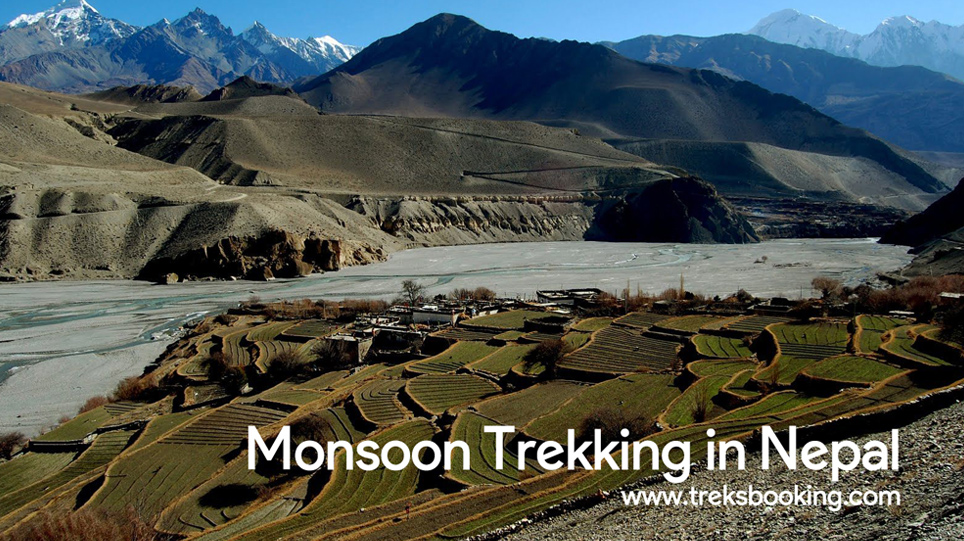 Monsoon Trekking in Nepal Expert Tips
Start your trek early in the morning
Waterproof your backpack
Bring best waterproof gears
Walk Slowly
Monsoon Facts
The monsoon season falls on June to August, might extend to mid of September.
The average temperature is around 23 degree Celsius, its summer time. The temperature goes down as you ascend high.
The average rainfall is between 135 – 325 mm during the mid of Monsoon time – July.
Rains usually occur during the evening and night, so you can expect rainfall during day time depending on the altitude.
Monsoon Trekking in Nepal – Transportation
Trekking in Nepal in Himalayas undergoes either via overland or Flight. Some of the trekking routes have been connected with the roads to cities which are black-topped. But most of the mountain roads are graveled and might be blocked due to flood and landslides.
During the heavy rain, there will be chances of landslides and flood. So, you must go to rain-shadow areas for trekking in Nepal during monsoon time.
For the updated information about transportation means, please keep in touch with Treks Booking. We will let you with the latest updates of roads and flights.
What is it like to Trekking in Nepal in June?
June is the month of monsoon and a special month of Nepal. Nepalese people become busy on their fields to sow the paddy as National Paddy Day falls on this month and it is on 29th of May (Asar 15 – National Rice Plantation Day).
The agricultural activity depends upon the rain water and the Nepalese people work hard on their fields whole day.
Due to the heavy rainfall, there will be chances of flood, landslide and soil erosion on the trekking routes. So, trekking to high altitude Himalayan region is not recommended.
If you are interested on trekking, you can do on rain shadow areas Upper Mustang and Upper Dolpo.
Apart from trekking, you can join agricultural volunteer programs, rice plantation, playing with mud and enjoy the local festival.
You can also join Yoga and meditation programs as the environment will be greenery and clear after the rain stops.
What is it like to Trekking in Nepal in July?
July is the peak monsoon season in Nepal with the heavy rain fall (Some day) all the day or it may extend to 2-3 days long also. Generally, during the monsoon time, the trekking agencies of Nepal do not recommend for trekking.
There may be the risk of landslide on the trekking trail and leeches. But during the rainy season, there are rain shadow areas in Nepal which have less effect of monsoon.
Annapurna Circuit Trek, Humla Simikot, Upper Mustang Trek and Upper Dolpo trek are the best season for trekking in Nepal because these trails are located at rain shadow areas. Monsoon is the off-season time in Nepal with the less demand of trekking to Himalayas.
What is it like to Trekking in Nepal in August?
Planning for Nepal Trip? or Going Trekking to Nepal Himalayas? Visit Nepal in August. August is the monsoon month in Nepal and still there is rainfall during the day.
Although trekking is not possible during the monsoon season, you may go for jungle safari, cultural sightseeing, yoga and meditation and trekking to rain shadow areas.
There are some colorful festivals during the August which you should not miss while you are in Nepal. This year Janai Purnima, Nag panchami, Gai Jatra and Krishna Janmasthami falls in August 2019.
Monsoon Trekking in Nepal – Pros and Cons
Trekking in Monsoon months like June, July and August is not highly recommended due to heavy rainfall, slippery trails, and leeches, cancellation of flights, bad weather and road blockade.
But apart these advantages, there are many things that you need not to miss.
There are few trekking trails that lie in rain-shadow areas, means receives no or very less rainfall during monsoon season. These trails are less touristic, culturally and naturally rich and very less trekkers on the trail. These trails lie on the Great Himalaya Trail of Nepal.
You can also do yoga and trekking during monsoon. During monsoon, everywhere is green and a good environment to have peace mind.
The popular Nepali festival lies during monsoon in Nepal. You can also enjoy the greatest National Paddy Plantation event on the trails. Take part on a trip Farm volunteering in Nepal.
Monsoon would be best for researchers and photographers if weather is good.
Why Trek during the Monsoon Season?
Nowadays, many people plan to go trekking during monsoon season in Nepal. Most of trekkers they look for the best trekking months. But the adventure enthusiasts love monsoon trekking. There are some reasons why you should go Nepal during the monsoons.
Beautiful Sunrises:
Usually, it rains during the night and sometimes during the day. But, the morning time, you will have amazing sunrises from the Himalayas, clearing up the skies. The sun rays through the clouds will be the most spectacular moment to capture in your camera.
Fewer tourists
As monsoon is off-season for tourism of Nepal, there will be fewer tourists on the trekking trails. Monsoon trekking would be the best experience for you if you are dying for some isolation.
Monsoon Festivals and Events
| | | |
| --- | --- | --- |
| Festivals | Nepali Date | English Date |
| Asar 15 – National Paddy Day | Asar 15, 2079 | June 30, 2022 |
| Nag Panchami | Shrawan 17th 2079 | August 02 2022 |
| Janai Purnima/Rakshya Bandhan | Shrawan 27th 2077 | 12th August 2022 |
| Gai Jatra | Shrawan 27th 2077 | 12th August 2022 |
| Krishna Janmasthami | 3rd Bhadra 2079 | 19th August 2022 |
| Hartalika Teej | 14th Bhadra 2079 | 30th August 2022 |
| National Constitution Day | 3rd Asoj 2079 | 19th September 2022 |
| Indra Jatra | | |
Recommended Trekking Gears during Monsoon in Nepal
The rain gears like umbrella, waterproof cameras, shells and hiking boots are recommended. Quick drying and light cloths are ideal trekking in rain.
Things to do in Nepal during Monsoon
Trekking to Rain Shadow Areas
Trekking in Nepal during monsoon is not highly recommended by the trekking agencies but there are some areas which receive less rainfall as compared to other regions of Nepal.
Upper Mustang, Upper Manang, Nar and Phu Valleys, Dolpo Region are the areas best for trekking during monsoon season. These places lie in trans-Himalayan region and rain-shadow areas.
You will be experiencing unique culture and nature, beautiful landscapes and the pristine Himalayas trekking to these areas. Upper Mustang Trek, Nar Phu Valley Trek, Upper Dolpo Trek, Annapurna Circuit Trek, Humla Limi Valley Trek are the best treks during monsoon season in Nepal.
Explore culture and heritage around Kathmandu Valley
If you are non-trekkers and love culture, Kathmandu is the best place for you to explore. The unique culture, arts and architecture, festivals and UNESCO World Heritage Sites are the best of part of Kathmandu sightseeing tour.
Hiking or Biking
Not interested for trekking long days? or love mount biking in Himalayas, Nepal offers the best places for you enjoy culture and nature.
Nagarkot, Dhulikhel, Namobuddha, Kakani, Phulchoki, Daman, Dhampus, Sarangkot, Bandipur and Tansen Palpa are the best places for hiking in Nepal.
If you love Mountain biking, you can bike to Upper Mustang, Annapurna Circuit and around Kathmandu Valley.
Experience the adventure (Bungee Jumping, Paragliding, Rafting and Jungle Safari)
Besides trekking and mountaineering, Nepal offers some other interesting adventure holidays that you really feel awesome.
Paragliding in Pokhara and Kathmandu, Bungee Jumping in Kathmandu and Pokhara, Zip Flying, Canoeing and Jungle safari in Chitwan National Park, Bardia National Park and Koshi Tappu Wildlife reserve are the best activities for you to experience during Monsoon Season.
The Nature, Culture and Mountains
In monsoon season, every day is not raining. Rains are generally seen in the afternoon while in the morning and day time receive less rain or no rain. If you are lucky, you will encounter the most beautiful nature and mountain views after rainfall stops. Don't forget to capture the moment on your camera as the part of lifetime experience.
The green nature with the lush vegetation, blooming flowers and unique organic agricultural cultivation are the best part of your visit to Nepal during monsoon season.
You will be exploring unique festival and cultural activities in Kathmandu and Pokhara during the monsoon months as Naag Panchami, Janai Purnima, Bhote Jatra, Teej, Gai Jatra and Krishna Asthami are few of them.
Rice Paddy Planting (Asar 15 Event)
Asar 15, popular known as asar pandra in Nepali is the day of busiest day for the farmers all over the Nepal. The day activities people engage by planting rice paddy, eating a special dish – dahi chiura, singing asar bhaka, dancing and playing with mud and water.
In Nepal, Asar 15 is a biggest agricultural festival of planting rice paddy in the fields and celebrated by eating beaten rice and curd.
The ropain festival is celebrated all over the Nepal. In Kathmandu valley, Kirtipur, Chapagaon, bungmati, Pharping, Sanogaon, Lele, Bhaktapur and Harisiddhi are the places to visit to see rice planing festival.
Farmers will be busy on their fields for planting the rice paddy. People who want to enjoy mud and water will have the opportunity to play holi of mud and water, throwing each other.
Asar Pandhara is the popular date on Nepali calendar on the third month and marks the beginning of the great monsoon in Nepal. The day is popular for paddy planting. Nepal government has declared this day as National Paddy Day.
Bird Watching and Jungle Exploration
If you are nature lover, you can visit the National Parks, wildlife reserve of Nepal for bird watching, wild animal activities and nature walk in Kathmandu, bardia, chitwan national park and koshi tappu wildlife reserve.
Kailash Mansarovar Yatra
If you are planning for Kailash Mansarovar yatra, this is the right time for Kailash parikrama tour. You can join a group for Nepaljung – Hilsa – Kailash helicopter tour or you can go Kathmandu Lhasa Kailash. Kailash Mansarovar yatra by overland (Jeep, Bus) will be operated in 2020 by Treks Booking.
Yoga and Meditation
If you like spiritual tourism and interested on yoga tour in Nepal, its opportunity in monsoon. There are many yoga and meditation retreat centers around Kathmandu and Pokhara which provides you the services. You will learn to live a healthier life and getting touch with your inner. Get a yoga tour package and experience the peace of mind.
Places to Visit During Monsoon in Nepal
Kathmandu, Nagarkot, Dhulkhel, Ilam, Pokhara, Bandipur, Chitwan National Park, Bardia National Park, Lumbini, Tansen, Kakani, Upper Mustang, Humla Limi Valley, Siraichaur are some places to visit in Monsoon.
Frequently Asked Questions (FAQs)
Is it possible to trek during Monsoon season in Nepal?
Yes, trekking in Nepal during monsoon is possible. There are some treks that lies in Himalayan rain shadow areas.

During monsoon, there is very few possibility to rain or no rain. The upper mustang trek, upper dolpo trek, humla limi valley trek, rara lake trek, Annapurna circuit trek are some best monsoon treks in Nepal.
When is Monsoon season in Nepal?
Monsoon in Nepal generally starts from the end of May or beginning of June. It ends around the end of the August or sometimes it may extend to first half of September.
Does it rain daily?
It can't be predicted how often the rain occurs. Most of the time it rains for about an couple of hours. But, after the rain, the climate will be pretty cool and the skies clear up.
What will be the trekking areas during monsoon in Nepal?
Trekking during monsoon in some popular trekking routes are not highly recommended. There might be the risk of slippery roads, mosquitoes, floods and landslides in Himalayas.
Does the tea houses open during Monsoon season?
In some places it may be open but most of the hilly and Himalayan areas suffer from flood and landslides so due to road-break, tea house owners may close it. Be confirmed or consult your trekking guide or company before you commence for trekking in Nepal.
Can I trek alone during Monsoon in Nepal?
Yes, you can. But, we highly recommend to hike with a guide at least. Trekking guides have good ideas in difficulties to safety.
Is it good to have the mountain views during Monsoon?
Sometimes, after the rain, the mountain views are spectacular. If it rains for a long time, you may have bad experience for Himalayan views.
What to expect during monsoon in Nepal?
You can expect a clear days after the heavy rainfall in night. Sometimes there will be cloudy day with dense fog resulting in bad view of surrounding. While trekking in lower altitudes, the risk of leeches, wild forest insects is common.
What are the recommended gears for the monsoon trekking?
It is best to have quality rain gear, umbrella and good trekking poles while trekking.