< !DOCTYPE html PUBLIC "-//W3C//DTD HTML 4.0 Transitional//EN" "http://www.w3.org/TR/REC-html40/loose.dtd">
Asar 15, according to Nepali calendar is celebrated as the National Paddy day and is significant for the rice paddy plantation in the fields. Nowadays, it is taken as the festival where people from all over Nepal are busy on their respective fields planting rice, playing with mud, singing and dancing.
Rice is the main crop in Nepal and agriculture is the main occupation so this day holds importance for the crop production in Nepal. Nepal Government has announced the day as National Paddy Day to increase the productivity of the rice crops around the nation.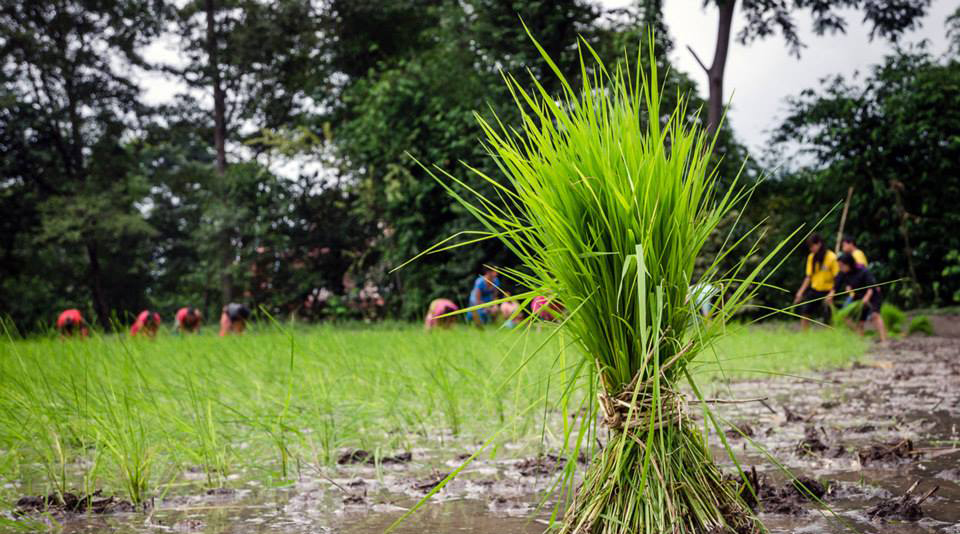 Rice is grown almost every part of Terai region within Asar month whereas in hilly region, it may take some days later. The rice plantation festival mainly takes place as per the monsoon begins to rain. But Asar 15 is the peak day and celebrated as the special festival. Generally the rice planted in Asar will be harvested in Mangsir (October-November).
This festival is celebrated by enjoying the day singing monsoon song, splashing the mud water to each other, eating dahi chiura (beaten rice with yogurt). Government agencies and farmers' organizations also observe this special day as Rastriya Dhan Dibas (National Rice Plantation Day) organizing different agricultural activities to increase the rice production for the food security in the country.
When is the rice plantation day in 2019?
Rice Plantation Day is on the Asar 15, 29th June 2019.
Dahi Chiura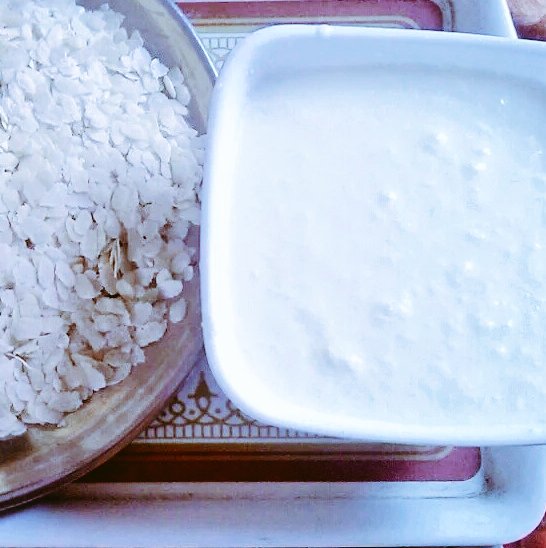 Asar 15 National Paddy Day Events
Itinerary
8:00AM: Gathering at Thamel 8:45AM: Drive to Bungamati 9:30am: Arrival at Bungamati followed by rice planting 11:00- 11.30: Newari snacks 12:30- 1:00pm: ending of Ropain. Getting ready for lunch 2:00- 2:30pm: Drive back from Bungamti 3:30pm: Back to Thamel
Cost: $25 per person
Fixed Departure: 30 June 2018
Includes
Pick up and drop
Traditional Newari snacks and meal
Free-flowing rice beer (of course children will get juice)
Tons of fun!
Excludes
Hotel in Kathmandu
Personal expenses
VITOF Nepal Rice Planting Festival at Lele

The Village Tourism Promotion Forum Nepal (VITOF-Nepal) is organizing the national rice planting festival in Lele on June 29. VITOF is going to organize the event in collaboration with Nepal Tourism Board to promote the culture, tradition, monuments and the places of the site. Every year on the occasion of National Paddy Day, VITOF-Nepal is organizing Rice Planting Festival at different places to promote the local tourism.
Rice Plantation and Mud Festival Chitwan 2019

Rice Plantation and Mud Festival Chitwan 2019 is organized by Lake Twenty Thousand Farm Retreat and Gravity Events in Chitwan.
Rice Plantation Festival 2019 by Food For Life Nepal (FFLN)

Date: June 29
Time: 9:30 am – 4:00 pm
Cost: Free
Phone: +977- 9801080230, 9801081182
Email: info@foodforlife.org.np
Website: www.foodforlife.org.np
San Miguel Presents The Kathmandu Post – Mud Fest 2019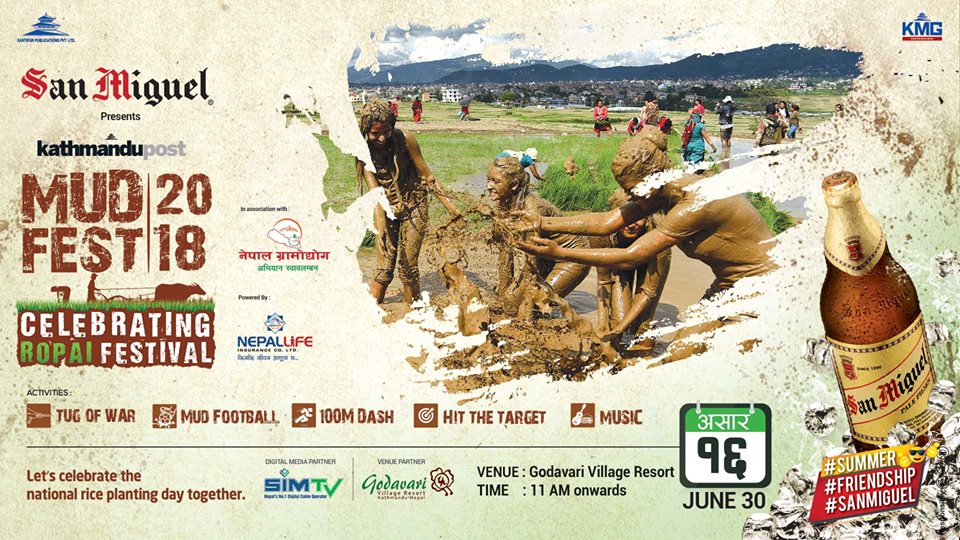 Experience: "Dhan Ropain" event
Spectate: | Lakhe Dance | | Combined circus acts |
Taste: Delicacies from different food eateries especially
"Dahi Chiura" to celebrate the festival.
Enjoy: Music performances by talented music artists
Activities : Tug of War | Mud Football | 100M dash | Hit The Target
Ticket details :
Nrs. 1500/- (per pax)
Nrs 6000/- Family Package (4 pax)
(Free entry for kids under 3 feet)
Ticket includes – Newari lunch set, unlimited rice beer (Chyang), 1 can of San Miguel.
For ticket queries : 9841197820