When is the best time to visit Kalinchowk for snow? Every adventure traveler have this question on their mind. Actually, visiting to Kalinchowk is frequent all the time in a year but during the winter season, it gets crowded.
Content on the blog: Kalinchowk Bhagwati Temple (Accommodation, Weather, Transportation and Things to do)
Kalinchowk Bhagwati Temple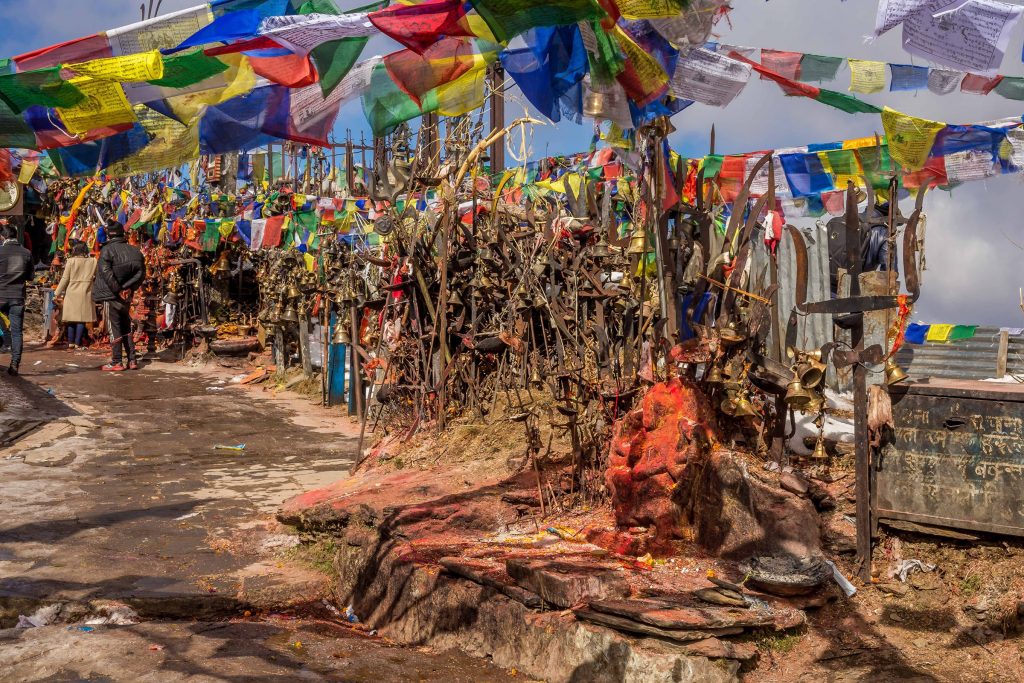 Kalinchowk is a popular place for day hiking and pilgrimage tour as there lies Kalichowk Bhagwati shrine. Nowadays it is popular among the youths for a day out and snow activity.
Facts
Kathmandu to Charikot = 133kms
Charikot to Kuri = 18km uphill (Off Road)
Kuri to Kalinchowk Temple = 2 Hours hike or 10 Minutes Cablecar
Kalinchowk Weather
Kalinchowk Weather on January 1st 2019
Its -1 °C on 11:00 AM Tuesday, January 1st 2019 at Kalinchowk Kuri Village.
High Temperature: 2°C
Low Temperature: -6°C
How to Go Kalinchowk?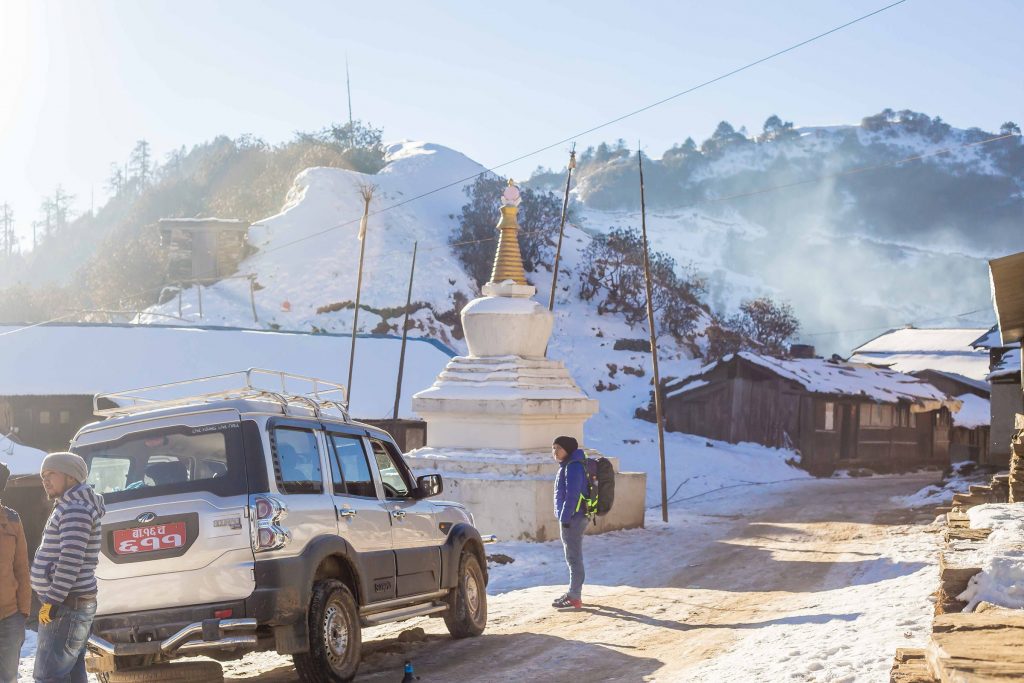 For Kalinchowk trip, you need to drive 6 hour from Kathmandu via kuri bazaar and charikot followed by a 5 kilometers long hike to Kalinchowk hill. From the top, you will have spectacular views of Mountains like Ganesh Himal, Shisha Pangma, Langtang and Gauri Shankar along with temple Kalinchowk Bhagwati.
You can take a local bus to Charikot from Old Buspark or reserve a jeep if you want luxury trip. It costs NRs 330 from Old Buspark to Charikot on Bus and NRs 500 on Jeep. The Bus from Old Bus Park departs at 7:30 in the morning.
From charikot Bazaar, you need to take another Bus to get to Kuri village, the base camp of Kalinchowk.
Kalinchowk Map/Where is Kalinchowk?
Kalinchowk lies at an altitude of 3700 meters above sea level making it perfect place for snow fun during the snowfall season.
Best Time to Visit Kalinchowk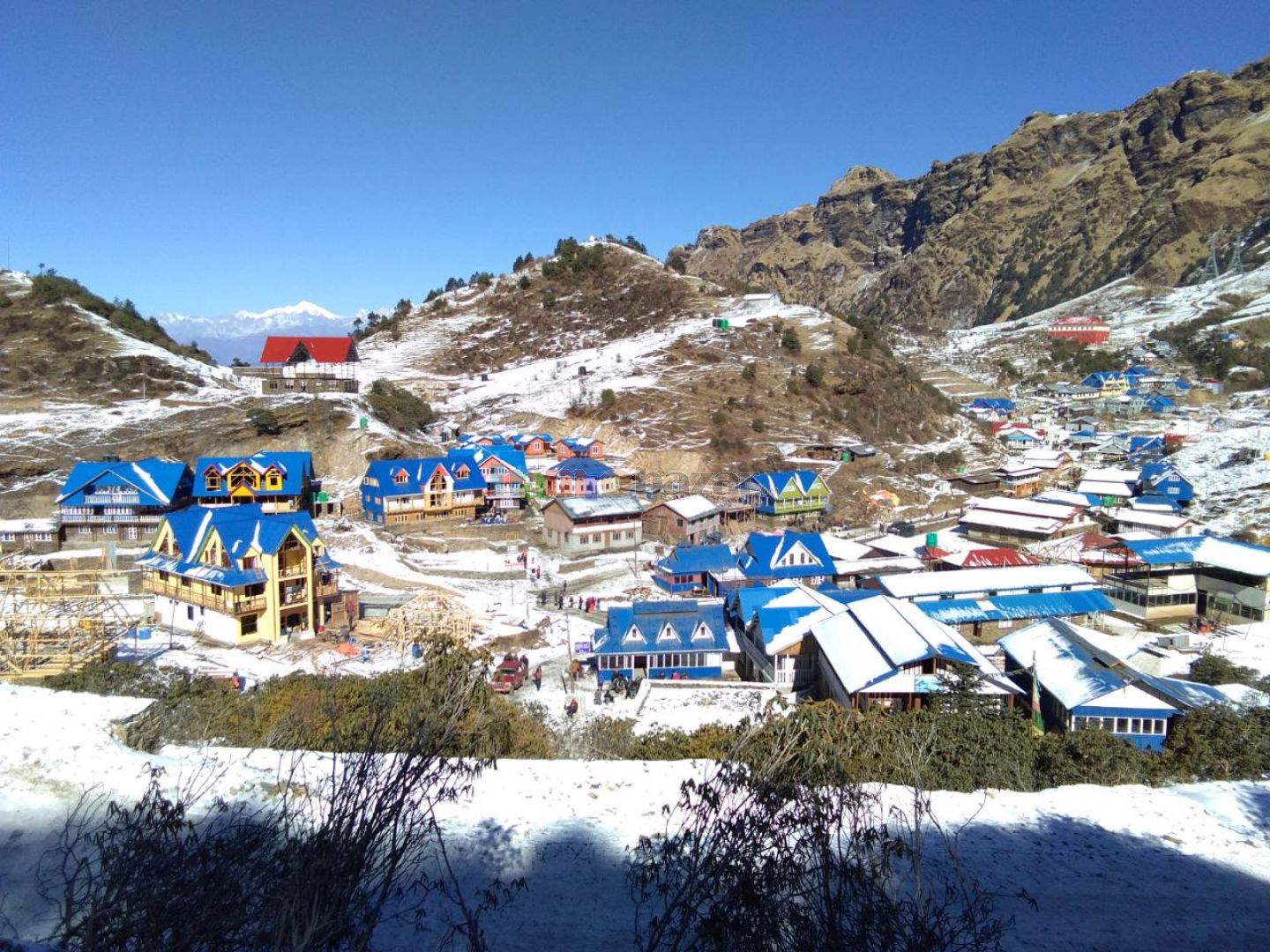 If you are planning to go Kalinchowk, consider the months from September to May. These are the best months for beautiful sunrise, clear views, and festival time. As Kalinchowk lies near to Kathmandu, you can plan any time in between these months.
Kalinchowk hotels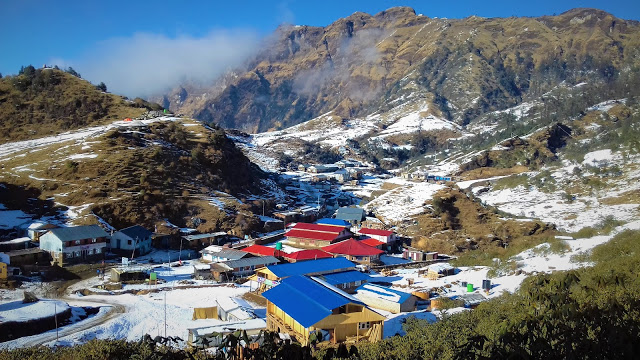 There are plenty of hotels and restaurant for lodging and fooding. Most of the hotels are situated at the beautiful Kuri village, the base camp to Kalinchowk Bhagwati Shrine. There are above 40 hotels operating in kuri village. In general it cost NRs 1000 for Campfire, lodging, dinner and breakfast. You need to book earlier in main seasons from September to May. You can book a hotel room by Phone and email.
Some of the popular hotels kuri village are Kalinchowk Country Vilage Hotel, Hotel Fireside Kalinchowk, Charikot Panorama Resort, Hotel Sajina and Guest House, Sangam Hotel and Lodge, Hotel Paradise Charikot and Kalinchowk Kasturi Lodge.
Kalinchowk snowfall Time 2019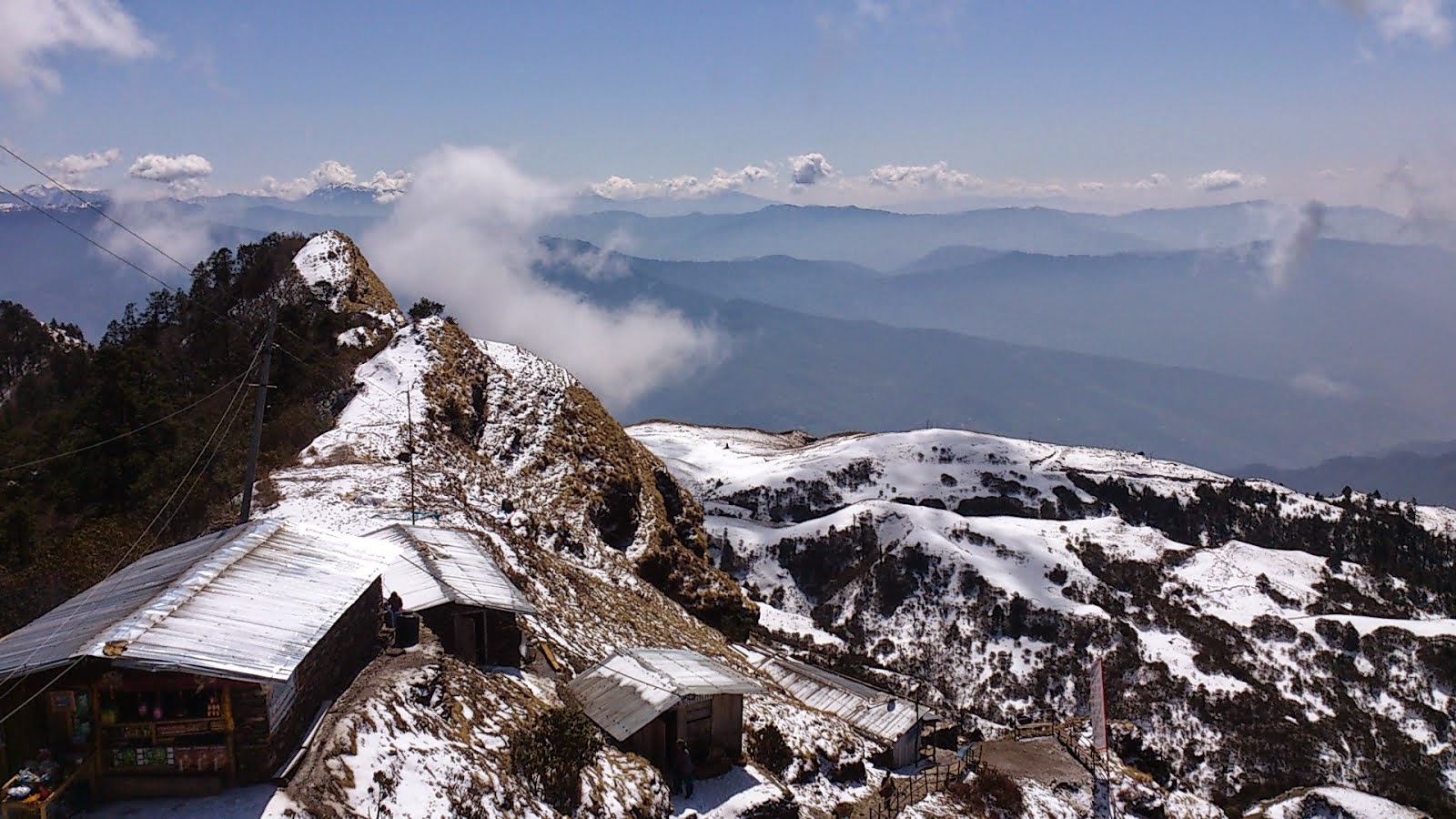 The snowfall time is generally in between December to February. But it depends upon the weather at Kalinchowk. If it will be raining in winter season, then it is sure to snowfall. So, be prepared and get ready for snow play. Get ready for winter chill, making a snowman and playing by snowballs.
Update December 26th 2018: Is is snowing in Kalinchowk?
Yes, it is snowing in Kalinchowk. From last week of the December to mid of February, it is best time to visit Kalinchowk for snow activities. Enjoy your time with snowball and snowman.
Kalinchowk Cable Car
Kalinchowk Cable Car is the third cable car service in Nepal after Manakamana and Chandragiri. There are four gondolas which carries 10 persons (upto 800kg) at a time.
Kalinchowk Cable Car Ticket Price List
| | |
| --- | --- |
| Nepali Adult | 500 Nrs |
| Foreigner | 1000 Nrs |
| Student | 375 Nrs (25 % Off) |
| Disable | 375 Nrs (25 % Off) |
| Elderly | 375 Nrs (25 % Off) |
| Child Below 3 Years | Free |
Kalinchowk Cable Car Operation Time /Contact
Kalinchowk cable car operation time is between 7 AM – 4 PM in the winter season (Mangsir-Poush-Magh) whereas 6 AM – 5 PM in rest of the months.
Contact No – 01-4113710 (Kathmandu), 049 – 421357 (Charikot)
Kalinchowk Trekking Tour Package
2 Night 3 Days Itinerary
Day 01: Drive from Kathmandu to Kuri via Charikot
Day 02: Trek to Kalinchowk Peak, back to Charikot. You have the option for Cable Car ride to Kalinchowk.
Day 03: Drive from Charikot to Kathmandu.