Are you looking for best destinations to have snow fun activities like building a snowman and snowball fight is what the youths often love to do during winter in Nepal. Basically, snowfall happens on the mountain area but if it rains heavy, it would be snowfall even in Kathmandu and its surrounding.
Annapurna Base camp, Langtang valley, Poon hill, Upper Mustang, Manang, Everest Base camp are some popular trekking destinations for snow fun.
2019 Update
The first winter rainfall has been seen on January 7th 2019. With this light rainfall, several parts of the country, mostly hilly areas are covered with thick blankets of snow on Monday.
Snowfall has been experienced on Kalinchowk, Daman, Chandragiri, Poon Hill, Phulchowki and other hilly areas of Kathmandu.
Snowfall Places Nearby Kathmandu
Here are some popular hill stations near Kathmandu valley where snowfall is quite imminent in the winter season.
Chandragiri Hill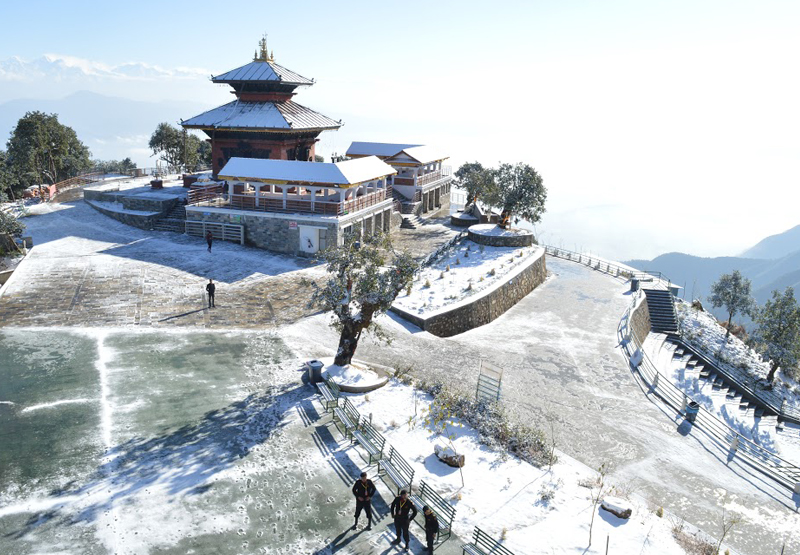 The most popular hillside of the current time is Chandragiri because of easily access from Kathmandu, Cable Car and being at an elevation of 2551 meters high from sea level. During the winter season, it occasionally get snowfall. There is snowfall at the moment of the rainfall on January 24th 2018. So, many youths are traveling to Chandragiri to enjoy the snowfall and panoramic views of Himalayas surrounding Kathmandu.
Chandragiri 2019 January Update: Snowfall in Chandragiri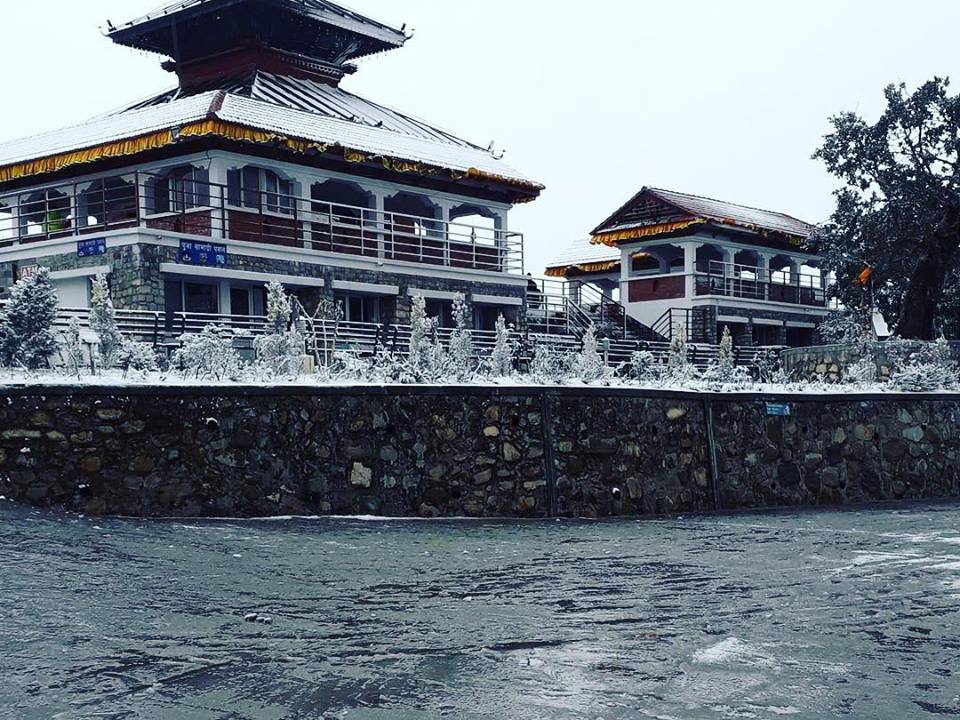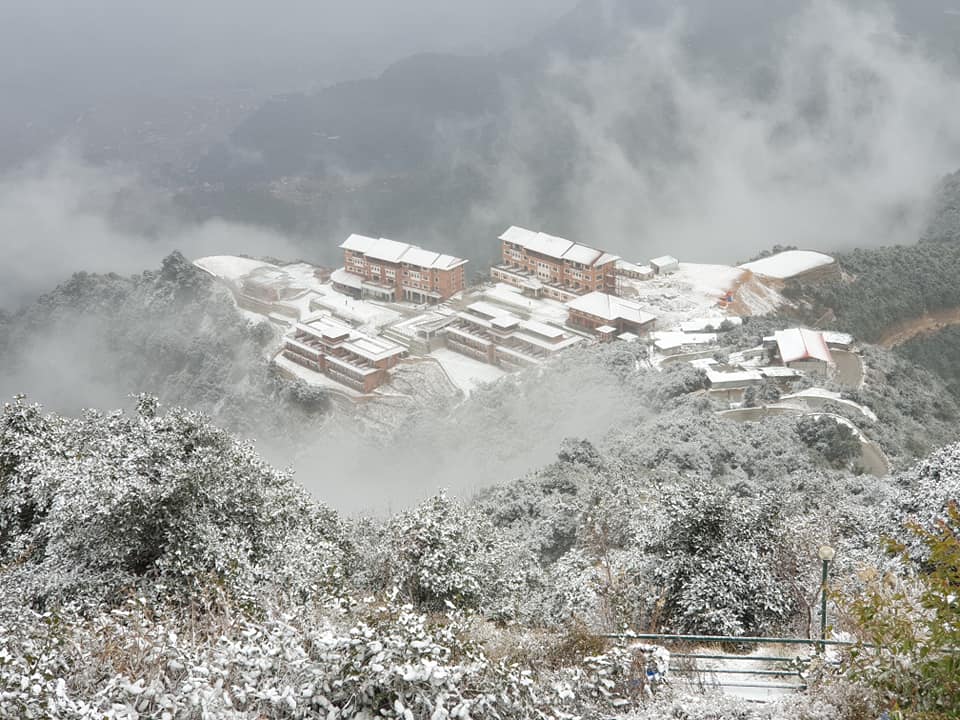 Phulchowki Danda
Phulchowki is the nearby hill station just 20 kilometers away from Kathmandu valley. It is located at an altitude of 2762 meters above sea level and offers the grand view of the Kathmandu valley with a backdrop of the Himalayas to the north. It is the popular hill station for Mountain biking, hiking and bird watching. This is one of the few places in Kathmandu valley that gets snow during winter time.
For Phulchowki hiking, you will just have to walk few hours through dense sub-tropical forest to reach the top of the hill. At the top of hill, there is a shrine of Phulchowki Mai and you can have an amazing views of Kathmandu valley and spectacular Himalayan ranges. Be ready for your snow fun activity at phulchowki because it only last for couple of days on the northern side of the hill after snowfall.
Shivapuri Hill
Shivapuri is another popular hill station nearby Kathmandu that can be reach within few hours drive or walk from Budhanilkantha Temple. It is the destination for regular hiking or biking for short holidays. During winter season, there may be occasional snowfall. So, being near to Kathmandu, this could be the best place to enjoy the natural vista, rhododendron forest walk and snow activities.
Nagarkot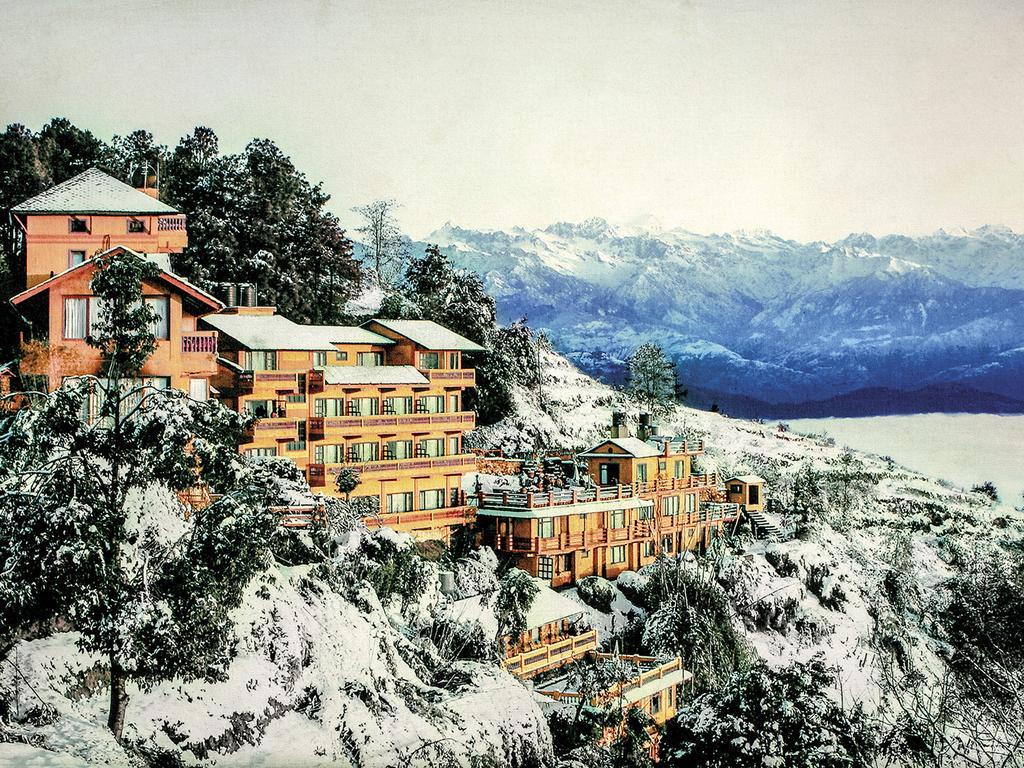 All time popular destination for stunning Mountain views, sunrise and sunset, Nagarkot is situated at an altitude of 2175 meter above sea level and it is located at 32km east of Kathmandu. Travelers can reach Nagarkot within one and half an hour drive from Kathmandu. During the winter season, there might be snowfall and one can enjoy snowfall along with the breathtaking views of Mountains like Mount Everest, Lhotse, Cho Oyu, Makalu, Manaslu and many others.
Kalinchowk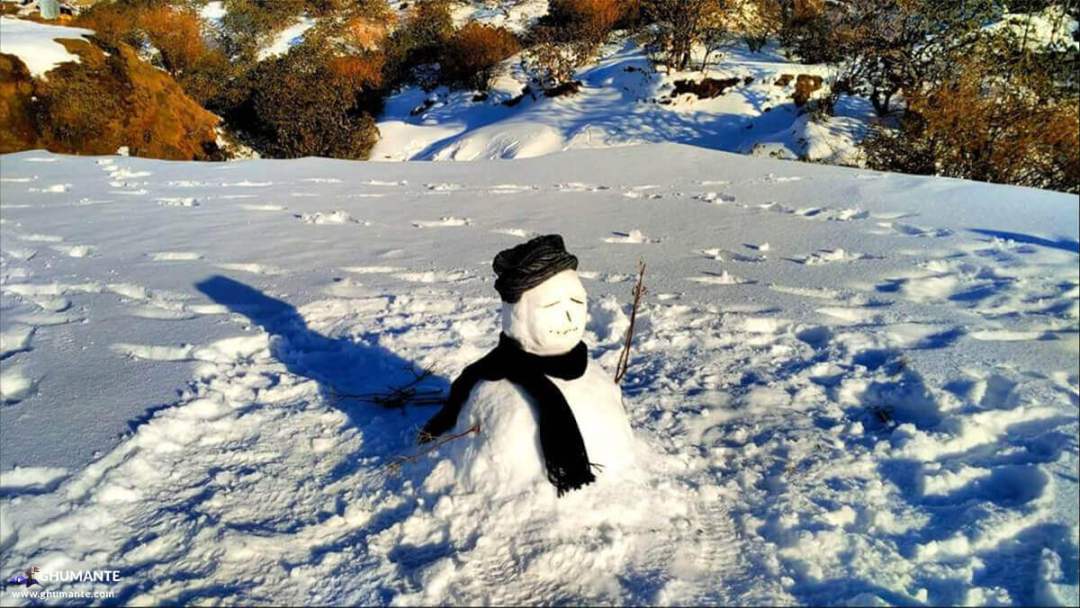 Kalinchowk is a popular hiking and snowfall destination in Dolakha, Nepal. Kalinchowk Bhagwati Temple residing at an altitude of 3800m from sea level is the most highlight of the area. From September to May, devotes visit this sacred place for puja and holy rituals. Nowdays, the youths visit Kalinchowk for snow activities during winter.
From the atop, you can have an atonishing views of Annapurna, Lamjung, Manaslu, Ganesh, Shisha panga, Langtang, Jugal Himal and Gauri Shanker. Along side the mountain views, the Kalinchowk village offers the beautiful panorama, culture and unexplored beauty.
For Kalinchowk trek, you can catch a bus to Charikot or kuri and from there you need to hike one and half an hour to atop Kalinchowk Bhagwati Temple.
Snowfall Places Outside Kathmandu
Daman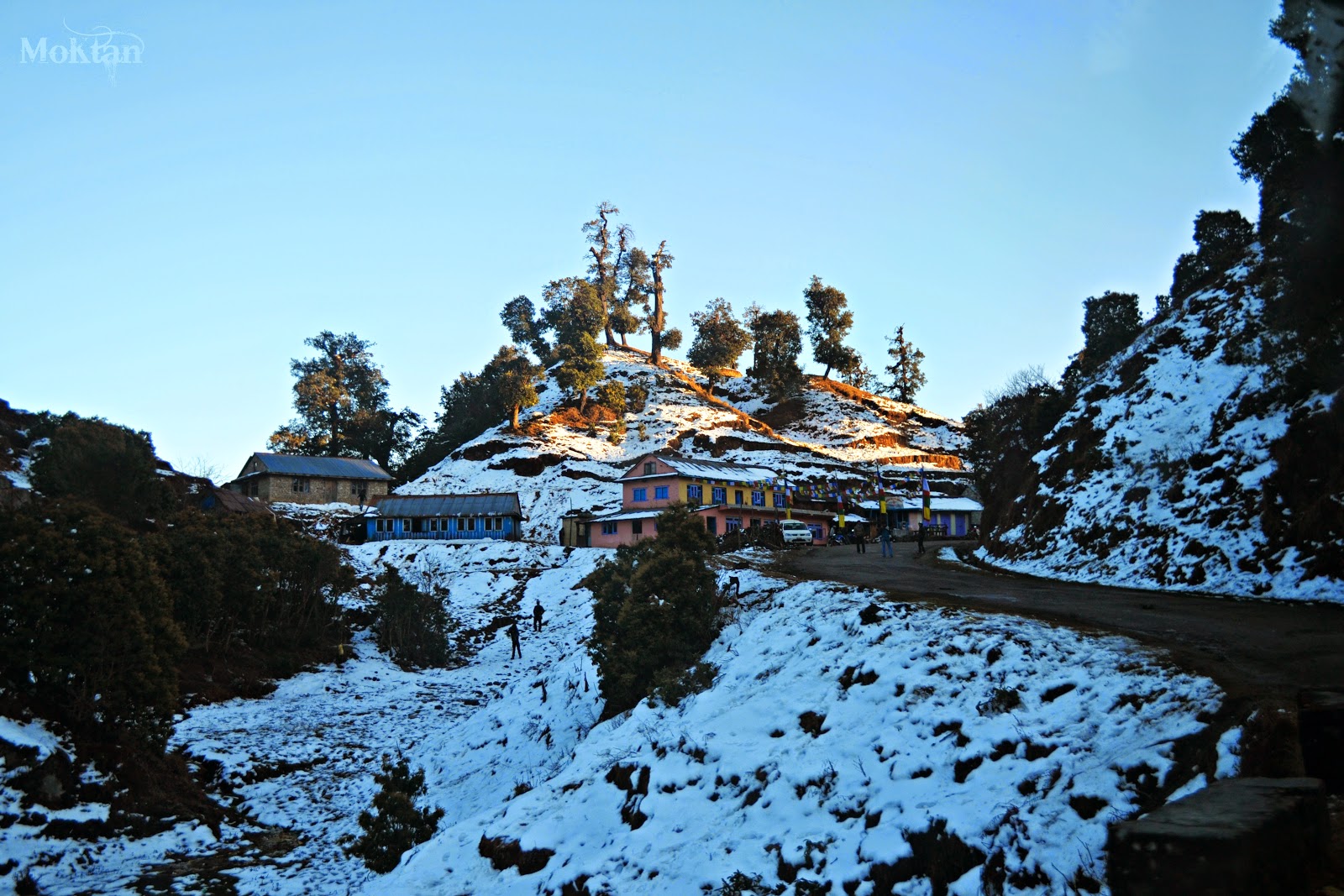 Daman is one of the popular place for snowfall in Nepal located just 75 kilometers southwest of Kathmandu valley in Makwanpur district. It has gain its popularity among the families, youths and business houses to enjoy the beautiful nature, surrounding villages, stunning Himalayas and local dishes. Other than beautiful views, you can also witness waterfalls, springs and green hills that make your mind peace and ease.
During the snowfall season, Daman attracts lot of domestic tourists every year. It is situated at an altitude of 2322 meter above sea level so offers the best views from the view tower and travelers can enjoy the snowfall everywhere. There are lots of hotels, resorts and small lodges that provide the accommodation services and activities. Catch a bus from Kalanki or Pharping to reach Daman. Three days program is the best to explore in and around Daman during the winter holidays.
Poon Hill
Far to Kathmandu, nearby Pokhara, Poon hill is a popular trekking and hiking hill station to enjoy snowfall every winter season. Poon hill lies at an elevation of 3210 meter above sea level that offers the best mountains views along with glimpses of cultural villages, rhododendron alpine forests and landscapes. Being a popular trekking destination and easy access from Pokhara, poon hill is crowded by both foreign and local tourists every year all year around.