Trekking could not be completed if you are not hiking to Gokyo Lakes in Everest region. It's a lifetime journey to the sacred valley through the Himalayan glacier, Sherpa land, alpine jungles, Sherpa villages and bank of holy Dudh Koshi River.
Everest Gokyo Trek is considered as the alternative route to the traditional and popular Everest Base Camp Trek.
Gokyo Lakes trek allows you to witness the beautiful mountain sunrise views from the atop of Gokyo Ri and adds a Sherpa cultural experience with fluttering prayer flags.
You will have 360 degree views of marvelous snow capped peaks Mt. Cho Oyu, Gyachung kang, Mt. Makalu and the Mount Everest at a close. They appear alluringly magical during the sunrise and sunset. Climbing to Gokyo Ri simply makes your Trekking in Nepal trip more exciting and lifetime experience.
Highlights of Gokyo Lakes Trek
Hiking to sparkling, clear blue waters of Gokyo Lakes.
Exploration of authentic Sherpa culture and village.
Escape of crowd Everest Base Camp Trek.
360 degree views of Mountains from Gokyo Ri (5357m/17571 ft).
Hike along Ngozumpa Glacier, the largest Himalayan Glacier of Khumbu region.
Gokyo Lake Trek in Autumn
Autumn Trekking in Nepal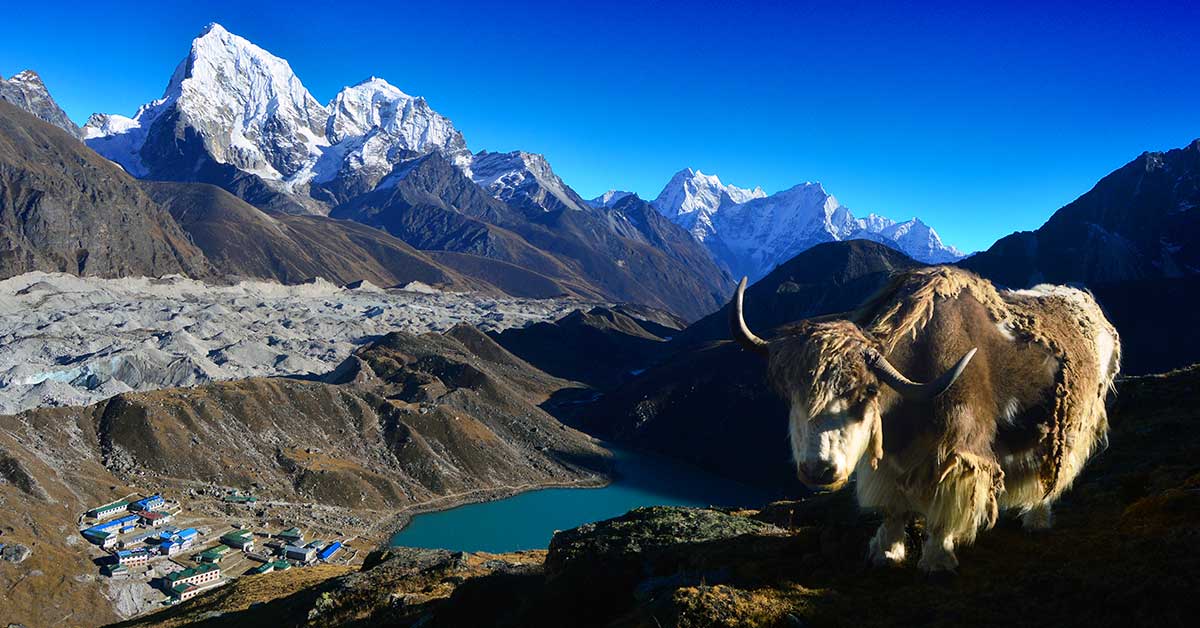 Gokyo Lake Trek in Winter
Winter Trekking in Nepal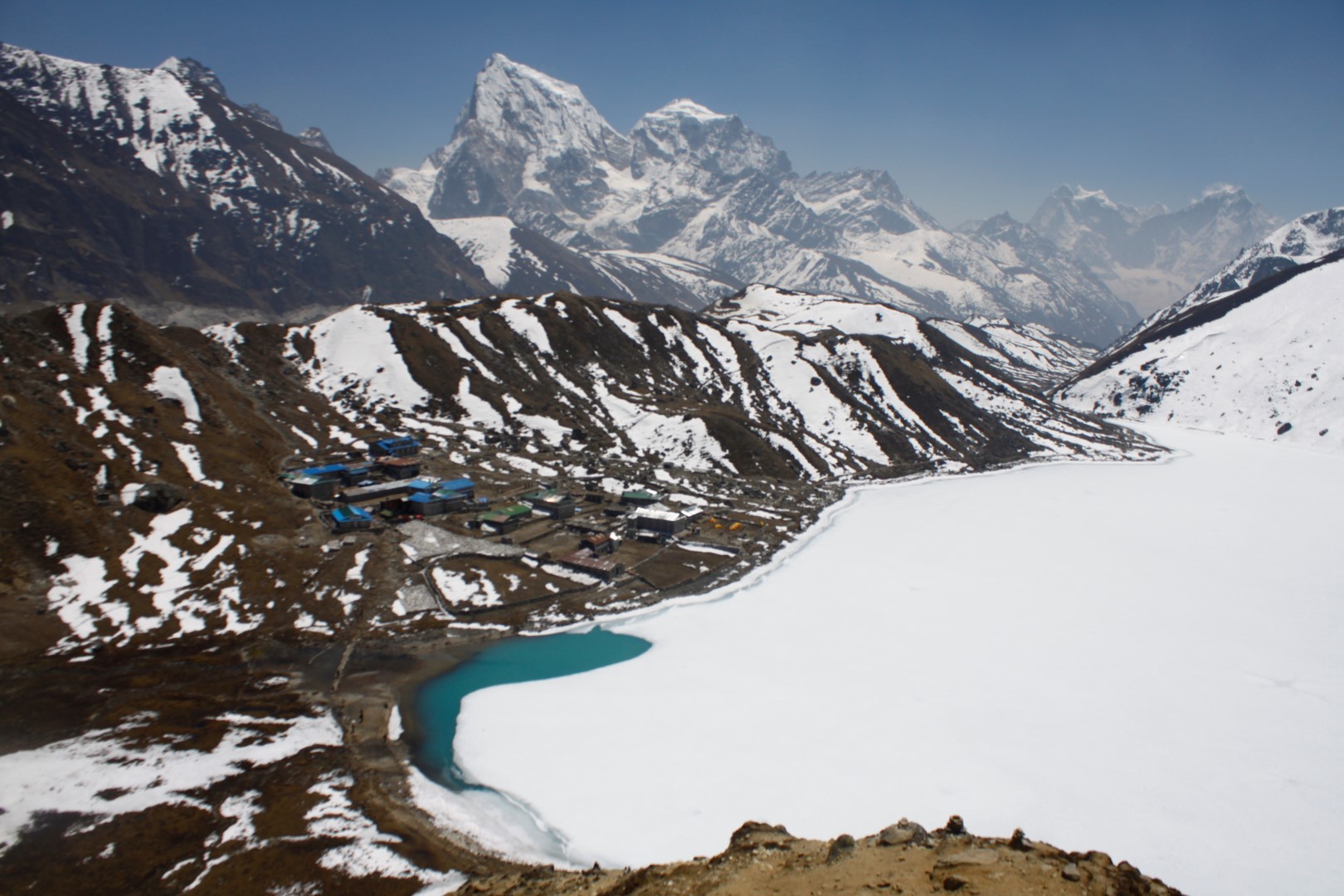 Gokyo Lake Trek in Spring
Spring Trekking in Nepal

Gokyo Lake Trek in Monsoon
Monsoon Trekking in Nepal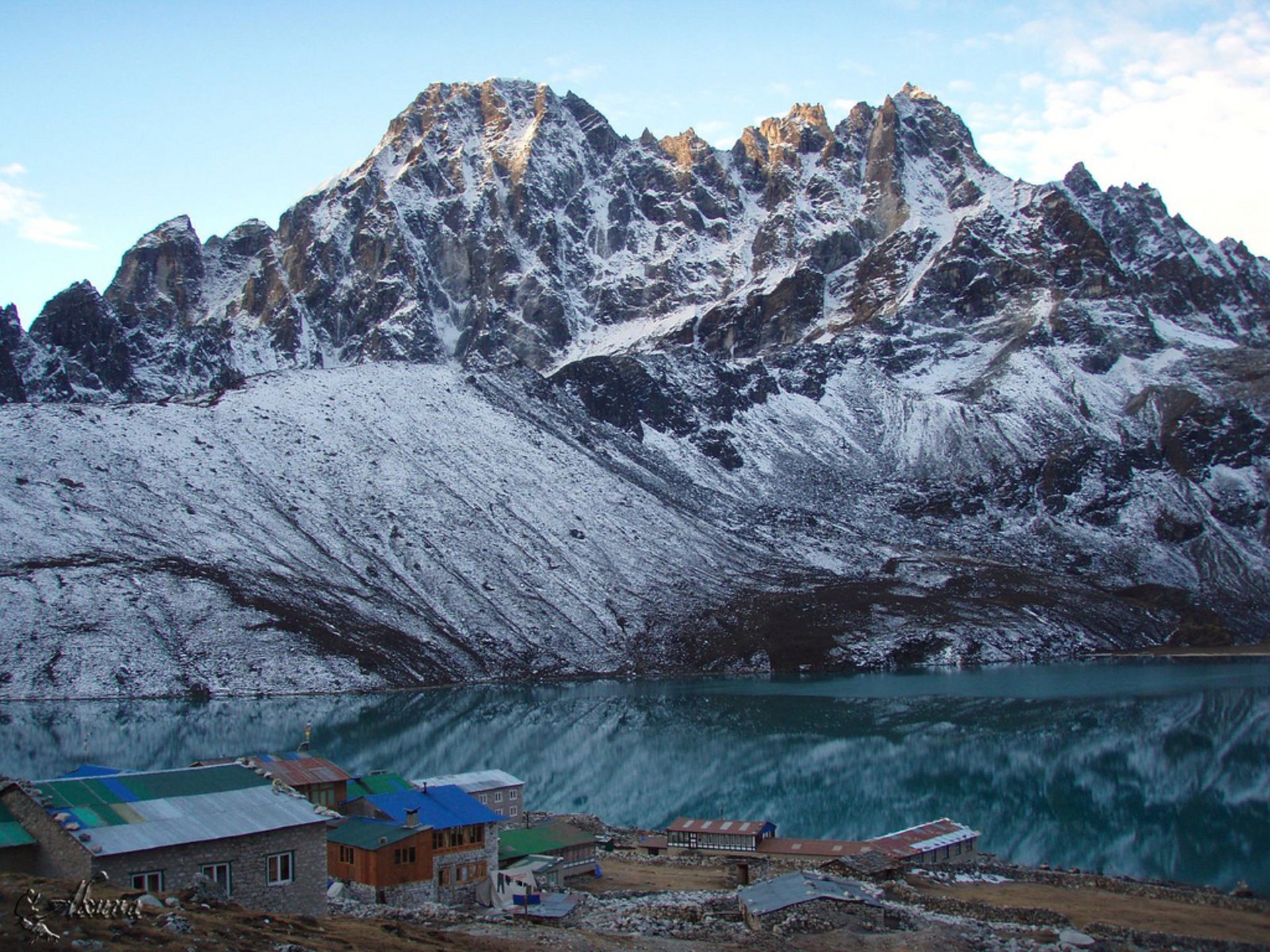 Gokyo Lake Trek Itinerary
Day 01: Arrival in Kathmandu, transfer to Hotel.
Day 02: Fly to Lukla, trek to Phakding.
Day 03: Trek to Namche Bazaar, overnight at mountain lodge.
Day 04: Rest day at Namche bazaar, hike to Everest view hotel.
Day 05: Trek to Dole.
Day 06: Trek to Machhermo.
Day 07: Rest day in Machharmo.
Day 08: Trek to Gokyo Valley.
Day 09: Hike to Gokyo Ri and trek to Dole.
Day 10: Trek to Khumjung Village.
Day 11: Trek to Monjo.
Day 12: Trek to Lukla.
Day 13: Fly to Kathmandu.
Day 14: Final departure.
Gokyo Lake Trek Cost
Everest gokyo lake trek cost depends upon the size of groups, trip length, package and time. We have budget, standard and deluxe package, please send us email of your requirement so that we can suggest you the package as per your interest. We are flexible on the cost of the trip. Claim a discount on a trek for group above 15+ persons.
On our website there is a cost of USD 1299 for 14 days Everest Gokyo lake trek including
All ground transportation including airport pickup and drop.
Kathmandu Lukla Kathmandu flight.
Tourist standard hotel in Kathmandu with bed and breakfast.
An experienced trekking guide and porter (1 for 2 person) including their flights, accommodation, food and salary.
National Park permits and TIMS Card.
What are the extra costs during Everest Gokyo Lake Trek?
Meals and drinks during the trek.
Your travel insurance.
Travel visa.
Tips for guides, porter and driver. (not mandatory)
Showers $2-$4, Wifi $2-$5 and charging $2-$5 while trekking.
Special Note: The weather in the Himalayas is unpredictable and volatile. Sometimes, it may be bad for hours and days. So, flights may be delayed and cancelled. There is no other way to fly from Kathmandu to Lukla for the short trekking itinerary. If flight is cancelled, you should return to hotel. For this, you need to pay extra.
If it is not flying for days, another option is to fly in a helicopter. The Helicopter cost from Kathmandu to lukla or other destination may be higher than regular flights.
So, be prepare and get updated of weather with us.
Everest Gokyo Trek Faqs
How to Trek Everest Gokyo Lake?
Trekking to Gokyo Lakes begins with an exciting spine-tingling flight to Lukla from Kathmandu. The trek then goes ahed to Namche, Thame and khumjung having spectacular views of Mt. Everest, Cho Oyu, Lhotse, Makalu and many more other Khumbu Himalayan glaciers. This is the most demanding trek after Everest Base Camp trek in the world. Every year thousands of trekkers flock to Gokyo Lake for a memorable adventure.
When to Trek Gokyo Lake?
Trekking all the time in a year is possible for Gokyo Lakes but Autumn from September to November and spring from March to May are highly recommended months.
The clear mountain views, warm days, scenic views are the highlights of Autumn and Spring season. You can enjoy the Nepalese greatest festivals Teej, Dashain, Tihar and Chhat during this time. Also, you will be welcome by the blossom of wild flower called Rhododendron (Nepal's national flower).
What is the food like during Gokyo Lakes Trek?
Usually, there will be Nepalese dhal bhat (a set of rice, lentils, vegetables and pickles) at lunch and dinner. You can taste the western food in some places like Lukla. For the breakfast, there will be hot porridge, muesli, bread with an omelette or boiled egg and a cup of tea or juice.
How about the drinking water during trekking to Gokyo Lakes?
Well, most of the tea houses have the option to buy bottled water but we advise you to reduce the use of plastic things specially in mountain area. You can instead add water purification tablets with the cold water which you will be given at tea houses.
How much time in a day should I hike during Trekking?
On the Gokyo Lake trekking, you will be walking 4-7 hours a day. It may be ascends the stone stairs, Himalayan glaciers, Rocky Mountains and crossing of suspension bridges. In some places, you may feel difficulty and challenging, so listen to your guide and walk slowly slowly. This is important for altitude sickness.
How about the Accommodation during trekking to Gokyo Lakes?
Generally, the accommodation in the mountains are basic tea houses. The bedrooms are twin-share, no heating, no hot showers and basic toilets. But, in Kathmandu, you will stay in a deluxe hotels with air-condition room, wifi, TV and hot showers. There are plenty of luxury to budget hotels near in Thamel and nearby places.
How to Book Gokyo Lake Trek?
For Gokyo Lakes Trek booking, send us your flight details with a passport copy attached by email and pay 25% of the total trip cost in advance. This is required to make your hotels, flights, transportation and guides confirmation. Rest of the money, you can pay upon your arrival in Kathmandu before departure of the trip.